Global Illiteracy Epidemic
Although education is a basic human right, nearly 785 million children, youth, and adults around the world are illiterate. That's one in five people on the planet that are either completely illiterate or functionally illiterate, meaning they cannot perform basic tasks such as reading medicine or food labels. Two thirds of the illiterate community is women.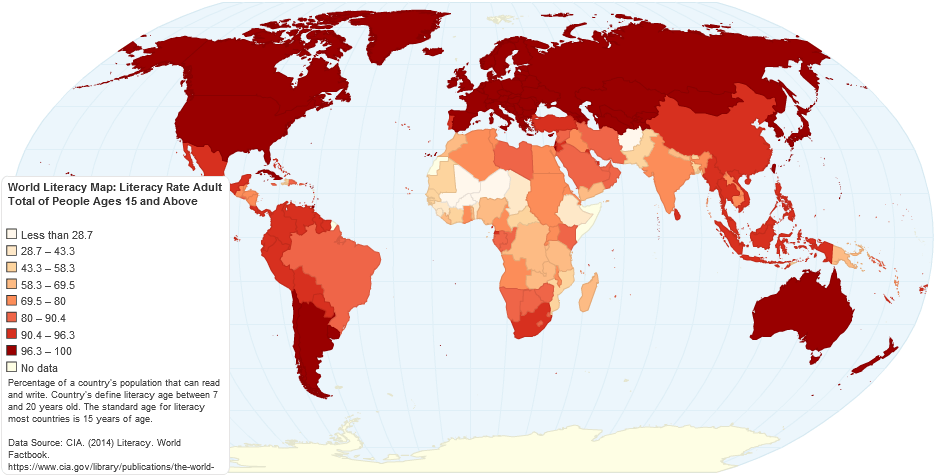 World Literacy Rates of Adults Age 15+ (2014)
Without the ability to read, people are denied basic rights and access to essential necessities needed to lift out of poverty.
A World Literacy Foundation report, The Economic & Social Cost of Illiteracy: A Snapshot of Illiteracy in a Global Context, estimates that illiteracy costs the global economy USD $1 trillion each year: 2% of the GDP in developing nations, 1.2% of the GDP in emerging economies, and 0.5% of the GDP in developing countries.
The report also finds the effect of illiteracy to be similar in developed and developing countries:
Majority of illiterate people are trapped in a cycle of poverty and have limited opportunities for employment or income, earning up to 30-40% less than literate people.
Illiterate people are more likely to have worse health, hygiene and nutrition, and they have limited access and understanding of health-related information.
A child born to a literate mother is 50% more likely to survive past the age of 5.
Illiterate people are also more dependent on social welfare and are more likely to be involved in crime. In some nations, up to 85% of juvenile criminals are functionally illiterate.
Bridging the Communication Gap
Illiteracy prevents global health and development organizations from effectively communicating life-saving messages to impoverished communities around the world. Traditional tools such as pamphlets and brochures are useless when they cannot be read and lack of staff and capacity makes reaching and communicating directly with rural communities tremendously difficult. At a time when the world's poorest communities cannot access even the most basic education, innovation is the key to bridging the communication gap.
Speaking Books has successfully created an effective means of presenting health care and development issues by adapting to the culture, skills and needs of communities. Through our innovative approach, critical information is delivered in a relevant, interactive, educational way, arming communities with knowledge that can save and improve their lives. Regardless of one's reading skills, access to information is just at a click of a button.
Why are Speaking Books so Unique?

Botswana

Lesotho

South Africa

Swaziland

Namibia

Zimbabwe

Mozambique

Malawi

Zambia

Angola

Comoros

Tanzania

Kenya

Uganda

Congo

Ethopia

West Darfur

Liberia

Senegal

India

Pakistan

China

Brazil

Nicaragua

Haiti

United States

Afghanistan

Burundi

Gambia

South Sudan

Somalia

Nigeria