What is a Speaking Book?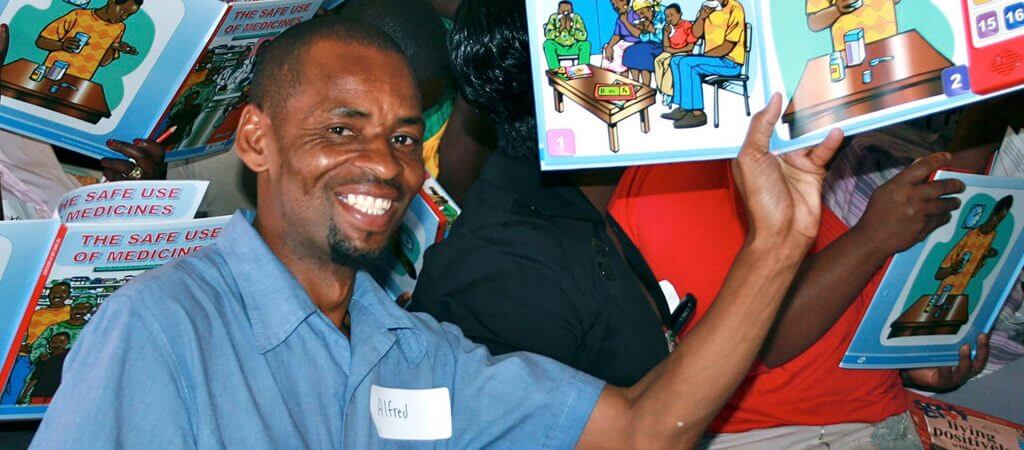 The Speaking Book addresses the worldwide issue of low literacy which threatens a billion adults. Low Literacy is a potentially life threatening problem as people with low literacy are 12-18 times more likely not to understand, ignore or confuse medical treatment and preventative measures, and therefore at a much higher risk to suffer further affliction, illness and victimization.
Each Speaking Book consists of 16 pages of colorful illustrations supported by straightforward and easy to understand text. For each page there is a corresponding push button that triggers a recording of the text, so no matter the level of reading comprehension, the information will be
seen, read, heard and understood with powerful results.
For people who cannot read, this is a lifesaver. Typically each Speaking Bookreaches multiple users with research for Pfizer indicating an average of 27 users per book. A UNICEF study in Ethiopia indicated over 120 users per book, which translates to a cost of under 10 US cents per intervention.
The Speaking Book is totally self contained and user driven so that the messages can be listened to in any order and as often as necessary. It provides a cost effective means to present complex health care issues by adapting to the specific culture, language and needs of communities.
The Speaking Book has received numerous international awards for innovation and sustainability including; Africom Pepfar Award for Creative Innovation, CAPAM Commonwealth (53 countries competing) Silver Medal for International Innovations, CPSI Public Sector Service Award, and the United Nations TIGA Award for Sustainable Innovation, as well as endorsements by WMA, CDC, Johns Hopkins, USAID, The Global Fund, UNICEF, UNESCO, Rotary International and others.
This innovative tool is used and supported by many national Health Departments, and is being used by 6 out of 10 of the world's largest pharmaceutical companies. Speaking Books are now available in 75 titles, and in 35 languages, focusing on a number of critical health care issues including HIV and AIDS, Malaria, TB, Clinical Trials, Substance Abuse, Maternal Health, Safe Medicine, Mental Health, Suicide Prevention, Dementia, Government Grants, No Smoking, and Immunization for Pneumonia, Rotavirus and Polio, with distribution throughout Africa, China, India, Pakistan, Afghanistan, Haiti, South America and the USA.
The Speaking Book is also focused on literacy having successfully created an interactive "edutainment tool" with Sesame to introduce children to the alphabet in support of USAID's All Children Reading Program.