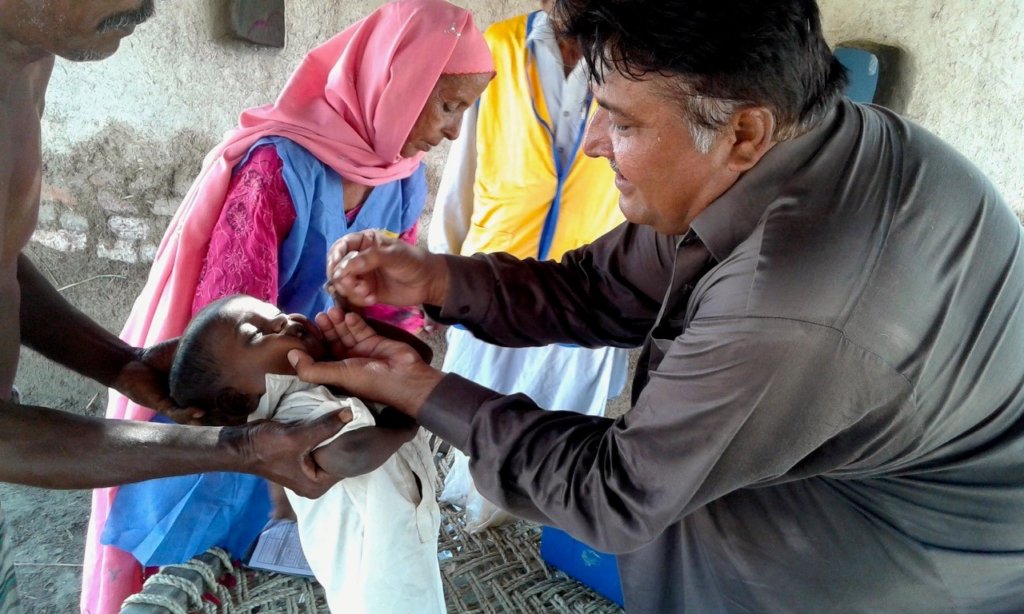 Credit for launching a new approach to encouraging polio vaccinations in Pakistan can be traced half way around the world to the Rotary Club of Hilton Head Island, S.C The club, at the suggestion of member Brian Julius, CEO of Speaking Books, Inc., had funded a book to address the issue of mental illness and suicide in Julius's native South Africa. Upon presentation of that project's success, PDG club member Bernie Riedel posed the simple question: "Why wouldn't this work for educating people about the importance of polio vaccinations in Pakistan and Nigeria, the two remaining targets for worldwide polio eradication?"
The power of the Rotary International network was put into motion! In October 2013, 5000 colorful and message-driven speaking books, recorded in Urdu and Pashto, were delivered to Pakistan with the expectation of reaching more than 100,000 residents who do not have reading skills. And discussions commenced with Nigeria for a similar intervention.
The success of Speaking Books in delivering needed messages of disease prevention to oft times skeptical, illiterate populations is well documented. By simply pressing a button to the corresponding illustrated page, users are able to listen to the messages recorded in their own languages.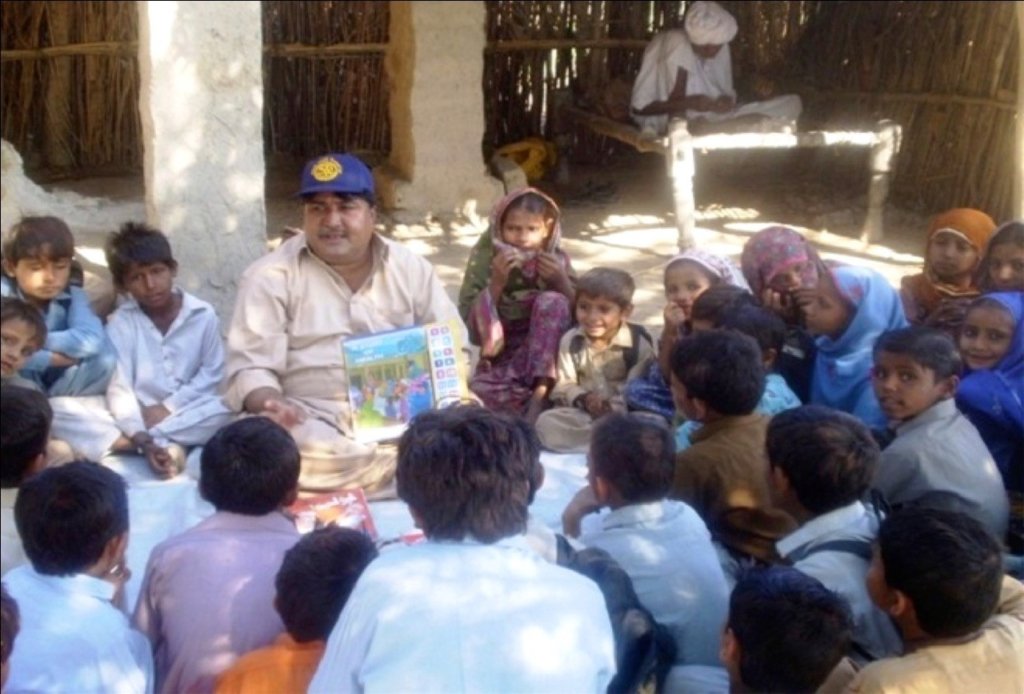 Pharmaceutical companies, national Governments and UNICEF have been major sponsors of the 50+ books previously produced by Speaking Books in 30 languages on such topics as: maternal child health, immunizations, hand washing, HIV, life skills for children (bullying, substance abuse, teen pregnancy) and suicide prevention. Follow up research has shown that the books are viewed and comprehended by as many people as 20-50 times the initial distribution. UNICEF"s own research in Ethiopia indicated 120 users per book.
The new Rotary sponsored book, entitled A Story of Health, is an educational tool that enables community workers to inform men, women and children on the importance of sanitation, hygiene and vaccination in preventing the spread of polio. It was delivered and officially introduced in Karachi, Punjab, Khyber Pakhtunkhwa and Balochistan, Pakistan, on World Polio Day, October 25, 2013. Participating dignitaries in the Karachi ceremony included the Senior Minister for Education (Sindth), the District Governor, as well as area Rotary and UNICEF representatives.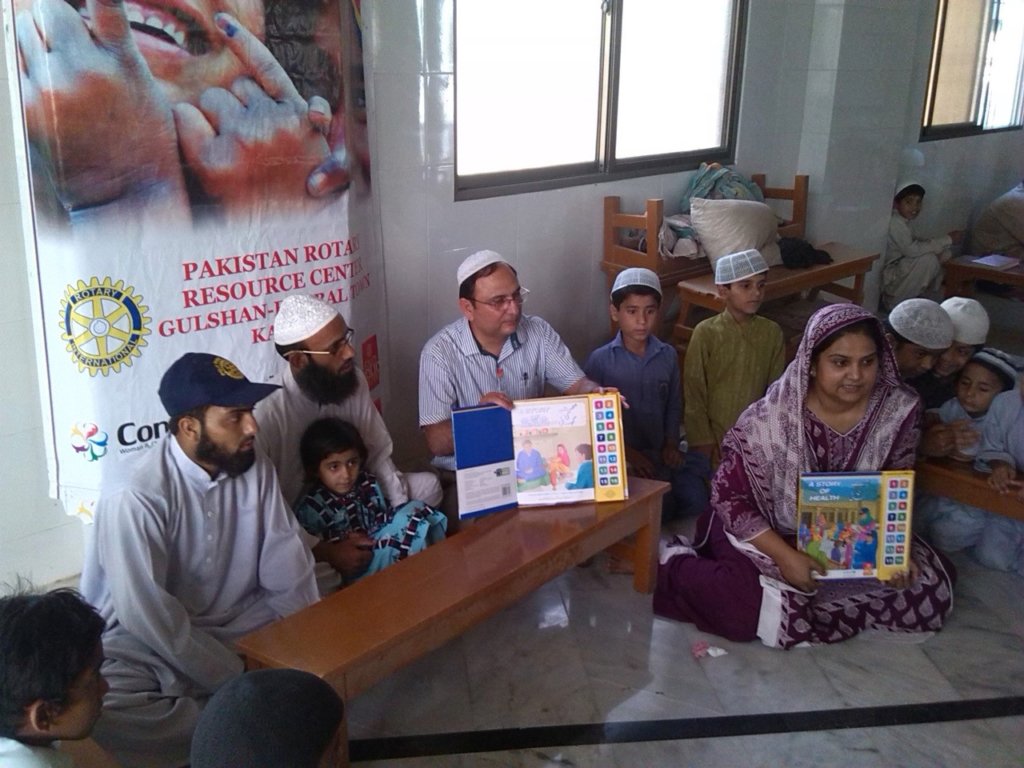 National Chair of Pakistan's Polio Plus Committee, Aziz Memon, commended the global collaboration among partners throughout the development and production of the Speaking Book – sponsored by Rotary International, designed in South Africa, written, illustrated, and recorded in Pakistan in consultation with UNICEF, and printed in China. A life-size book on display was signed by all the participants at the ceremony, as well as Dr Bob Scott. Children from the local school were given polio mobilization items in the form of speaking books, pencils, badges and plastic mugs.
This accomplishment can be attributed directly to global collaboration and the networking ability of Rotary International. Starting at a local club's initiative, the project moved forward rapidly to district, national and international offices to the credit of many Rotarians:
The Hilton Head Island club contacted District 7770 PDG and RI Vice President Dr. Anne Matthews and District 7730 PDG Nancy Barbee, who recommended that the concept be taken to RI's Polio Plus Director Carol Pandek and Polio Plus Senior Coordinator Amy Young in Evanston;
Amy Young contacted PDG Aziz Memon, Chair of the Pakistan National Polio Plus Committee, who indicated strong interest in a pilot program;
Sample books from earlier projects were sent to Pakistan, an enthusiastic response obtained, and the project moved forward with Alina Visram, Manager, Polio Plus Pakistan, as coordinator;
Alina Visram recruited the support of UNICEF in providing storyline, copy and illustration services and oversaw the recording and editing of the book;
At the recommendation of UNICEF, the storyline was expanded beyond education/encouragement for polio vaccinations to include good hygiene and sanitation, washing hands, and safe practices for a healthy life style;
With RI's agreement to fund the initial 5000 bilingual Speaking Books in Urdu and Pushto with printed text in Urdu and English, the production process was expedited and books delivered in a very short time frame.
"I know Speaking Books will be instrumental in educating communities to rid us of this terrible scourge that cripples children for life.;" Alina Visram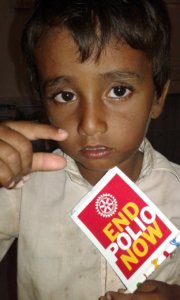 Next attention was focused on Nigeria, which also presented a number of challenges;
from creating a story line that would be endorsed by the Muslim leadership
and correcting the myth that Polio was caused by evil spirits entering into the body at night,
to working in extremely dangerous part of the country, where health workers have been targeted and killed
UNICEF Nigeria having already seen the results obtained in Pakistan were determined to have access to their own Speaking Book educational tool.
UNICEF Nigeria have developed and trained a team of 15,000 VCM's – Volunteer Community Mobilisers who visit house by house, and knew that the Speaking Book recorded in both English and local Hausa would have an amazing impact
Working with Naureen Naqvi and Melissa Corkum who head up UNICEF's Polio program in Nigeria, a storyline for Yes to Health….No to Polio, was created and tested amongst the local community.
Melissa then confirmed their requirement of 15,000 Speaking Books and with each VCM visiting on average 100 households, she believed that the potential would be to impact 1.5 million with messaging that is clearly understood on the absolute importance of immunization against Polio.
That's when she made an appointment to meet with philanthropist and Rotary International Polio Ambassador for Nigeria – Sir Emeka Offor
As is well known Sir Emeka is a huge supporter and major contributor to Rotary. His response was an emphatic YES to the funding request, and on August 21 last year, Rosaline Agiamoh representing the Sir Emeka Offer Foundation (SEOF) confirmed the order to have a new Speaking Book created, illustrated, recorded and manufactured in time to present to all the VIP's attending World Polio Day in Abuja Nigeria on October 24th.
That allowed just 7 weeks to do what normally takes 14 weeks or more.
In addition the Nigerian team headed by Rosaline needed to obtain the support and endorsement of the Muslim leadership. Without it the task of having local acceptance becomes so much more difficult if not impossible. Having the JNI logo on every book is a huge achievement and critically important endorsement.