Brought to you by our special guest writers this week from Sesame Workshop: Ayobisi Osuntusa and Agatha Nwajagu
It's difficult to grow up in today's world without running into Big Bird and Elmo somewhere! Sesame Street brought learning to broadcast television in the US in 1969 and ever since, the lovable Muppets have captured the hearts and minds of children all over the world, through Sesame Workshop's international co-productions.
In fact, in Nigeria, the Sesame Square television show reached nearly 8 million children between the ages of 3-7 years, and its Hausa language adaptation Dandalin Sesame remains on air today. Through Sesame Workshop's school and community-based programs, children in low-resource countries are able to learn with the Muppet characters even without access to broadcast television.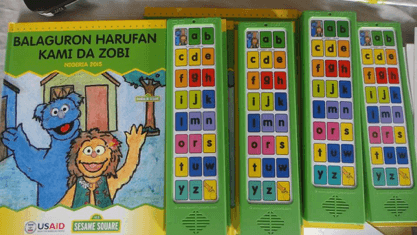 From 2013-2015, through generous support from USAID, the Abuja-based Sesame Square team was able to create Hausa literacy materials for use in public primary schools in six states in Northern Nigeria. Given the challenges of limited literacy levels in the region, along with variation in pronunciation, the team recognized the immense value of the Speaking Book for supporting young children as they developed early literacy skills in Hausa. Through a partnership between Sesame Workshop and Speaking Books, a new Hausa alphabet book featuring Kami and Zobi, the Muppet stars on Sesame Square and Dandalin Sesame, was born.
This Speaking Book gives children the opportunity to practice proper pronunciation and communication skills in the language of their environment. The full toolkit aimed to support children's learning and literacy also includes Hausa Alphabet Flash Cards and A Story Tree Mat. The Sesame Square team distributed the Speaking Books, along with the other learning materials, through a series of teacher trainings in the public and Islamiyya schools in Northern Nigeria. A set of Master Trainers were selected from the State Universal Basic Education Board (SUBEB) to lead step-down trainings that would prepare educators to use the learning materials in their classrooms.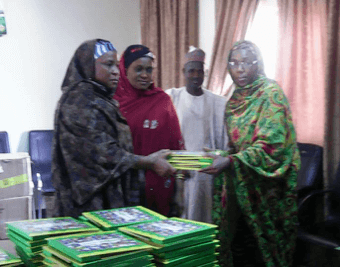 And the feedback has been terrific. The training participants were particularly excited about the new Speaking Book. Here are a few comments made by Master Trainers and teachers working in the field:
Mal. Aminu, from Katsina state said, "The Speaking Books facilitate teacher pupil participation in teaching and learning. The work has been simplified for the teacher. It will reach a level whereby the pupils will be very familiar with the book and then the teacher's job will only be to monitor and to guide them."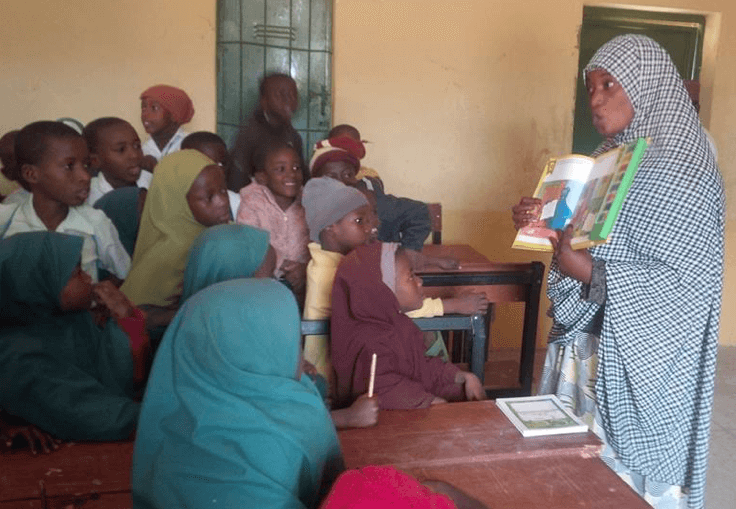 Hajia Umma, from Kaduna state said, "The best of all the trainings is the introduction of this Speaking Book because children learn better when they use their five senses. They derive joy in hearing, especially new things, like this Speaking Book."
Mal Ahmed, from Sokoto state said, "Many researchers confirm that children develop listening skills more than any other skills. This Speaking Book will further facilitate their listening skills."
Mrs. Agatha Nwajagu, the Education Content Specialist on the Sesame Square team, isn't surprised by the success of the Speaking Books. Moreover, she confirms a great need for such a resource and explains, "According to an Early Grade Reading Assessment (EGRA) report, conducted in Nigeria by Northern Education Initiative (NEI), an overwhelming number of children in the North have not acquired sufficient foundational skills necessary to read with comprehension in their own language. Therefore, it is pertinent to teach children the basics in Hausa, and they can build upon that knowledge at a later date. Speaking Books are a wonderful and fun way of learning that is very interactive and appealing to children. Their advantages call for an entire bookseries to be developed. I predict that the impact on literacy will be huge!"